Sojourners Celebrates National Adoption Month
At Sojourners we believe that every child
deserves a forever home.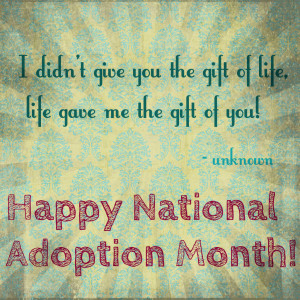 Our Family Development staff work hard to match children in our foster care program with wonderful forever parents. We have facilitated the adoptions of close to forty children in the past three and one half years. And, several of our staff have adopted children over the years. Adopting a child can be the most rewarding thing you do. If you are interested in learning more about adoption it is very, very easy. Just give Cari Owen, our Director of Compliance and Training, a call. She can explain the procedure
to you. We will walk you hand-in-hand through the whole process. We have foster youth waiting for you to make that call.
As someone once said "Adopting one child won't change the world, but for that child, the world will change."