Donate Blood and get a Ticket to Kings Island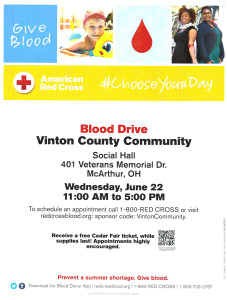 Donate blood and you can become a "ride warrior" or walk with dinosaurs.  Everyone who donates blood at the Vinton County bloodmobile on Wednesday, June 22 will receive a free ticket to Kings Island as long as supplies last. Kings Island, located in Kings Island, Ohio, near Cincinnati, features roller coasters, thrill and family rides, Planet Snoopy, and Dinosaurs Alive. Each free ticket has a value of $63.99. The tickets can be used during the summer and fall while the park is open.
The June bloodmobile will be held on Wednesday, June 22 from 11:00 am to 5:00 p.m. at the McArthur VFW, 401 Veterans Memorial Drive in McArthur.  Donors do not need to be Vinton County residents to donate.
This is really a big deal.  We hope to have 125 donors at this drive. Donors can bring their family and friends in to donate, get their tickets, and then make the trip to Kings Island for a summer fun event. It's a great way to thank our summer donors, because blood donations are critically important during this season.
Blood donations are needed now to help avert a summer blood shortage.  During the summer, an average of two fewer donors give blood at each Red Cross blood drive than what patients need. Vacations and other summer activities conflict with donation appointments for many donors, but the need remains constant.
It is very important to make an appointment, due to the numbers of people who traditionally attend these drives.  Amusement park tickets will be available for those with appointments, but may not be available for walk-ins.
Appointments to donate blood at the bloodmobile can be made by calling 1-800-RED CROSS (1.800.733.2767) or by going to www.redcrossblood.org. Be sure to tell them you are in the Central Ohio Blood Services Region and want to make an appointment for the Vinton County Community Blood Drive when you call.  Most healthy people who are at least 17 years old and weigh 110 pounds or more are eligible to donate every 56 days. Sixteen year olds may donate with parental permission. A permission form may be downloaded from www.redcross.org For more information call Shelly Horvath at 740.591.6649 or shellyhorvath@yahoo.com.
The need is constant. The gratification is instant. Give blood.