Help Sojourners
Volunteer Your Heart, Your Time, Your Passion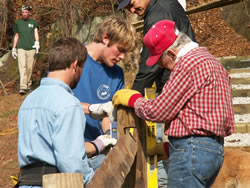 Service to the community is at the heart of Sojourners, and we depend on volunteers to help us in this mission.  Volunteering for Sojourners is a rewarding and meaningful experience for young people, adults, and seniors.  Volunteers have the unique opportunity to help instill values in youth, become part of a larger family, and create better opportunities for young people in foster care and community youth.  All this, and you will have fun too!
In addition to making a difference in the lives of young people, volunteers have many opportunities for their own personal and professional development through volunteer service at Sojourners.  There are several ways to volunteer your time.
Contribute Your Skill
Serve on the Sojourners Board of Directors and influence the present and future of our organization
Share your special skill with our foster care youth or Youthbuild participants in the classroom or through special  trainings or projects
Volunteer for our construction service projects and help us build a better community for our region's youth



Become a Volunteer
Take part in a service learning project and spend a day with young people working to create a better community

Help with one of Sojourners events, including MLK Day, Spring Dinner, Wild Turkey Idol Competition, or the Firecracker Idol Competition
Assist with clerical and communication projects in the Sojourners offices
Create your own volunteering opportunity.  Tell us how you want to help.
If you would like to discuss volunteering, please contact
Shelly Horvath
740-591-6649
shorvath@sojournerscare.net
Sojourners is an asset-based youth development organization serving Appalachian Ohio, Kentucky, and West Virginia.  A nonprofit organization founded early in 1999 by two brothers, Marcus and Richard Games, Sojourners fosters positive development opportunities for children and young adults living in the most distressed counties of Appalachia.
The organization provides a variety of programs including: residential services, education and GED support, employment training, mentoring, leadership education and service learning opportunities.
Sojourners continues to thrive due in large part to other people's generosity and their belief in our programs' capacity to change lives. Each contribution to Sojourners, from family foundation grants to corporate gifts to individual contributions, directly improves the lives of at-risk youth in Appalachia in a vital way and we value each and every donation.
Our individual donors all give according to their level of comfort, income and inspiration. Some donors make an annual contribution to Sojourners while others might make a donation to be used toward a special program,such as our annual Martin Luther King Day celebration or Summer@Sojo, our summer enrichment program for young people in foster care.
Sojourners also welcomes in-kind donations.
If you would like to discuss your donation, please contact Shelly Horvath at 740-591-6649, or gifts@sojournerscare.net.
Interested in helping in other ways, such as contributing your skill or volunteering your time? Visit our Volunteer page.
Sojourners is a 501(c)(3) not-for-profit organization. Donations are tax-deductible to the fullest extent of the law.