Sojourners Training Center
Jeff Fite, Director of Job Readiness and Training
Fred Bush, Construction Supervisor
Tim Jones, Distance Learning Coordinator
David Boothe, Student Planning and Academic Affairs Coordinator
Joy Dickerson, NEG Recruitment and Aftercare Specialist
Rick Parkison, Vocational Trainer
Kera Spriggs, Office Assistant
Gary Kellough, NEG Site Coordinator
Sherman Barnett, NEG Site Coordinator
Paul Collins, NEG Site Coordinator
Robert Culbertson, NEG Crew Leader
John Dayton, NEG Crew Leader
Jackie Hall, NEG Crew Leader        
Merle Johnson, NEG Crew Leader
Allen Mick, NEG Crew Leader
James Pontious, NEG Crew Leader
Tom Orlowsky, NEG Crew Leader
Brian Speakman, NEG Crew Leader
Bill Wederbrook, NEG Crew Leader
Youthbuild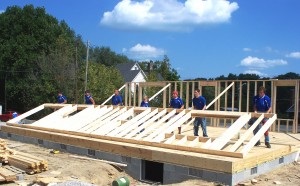 Youthbuild of Southeastern Ohio is a program of Sojourners, headquartered in McArthurOhio. Youthbuild  serves young people between the ages of 16 and 24 who have not received a high school diploma. (Those with a diploma who otherwise qualify will also be considered for the program). Participants learn construction and carpentry skills by building homes for low-income families and through furniture making, while receiving leadership and education support leading to a high school diploma or GED. After reaching certain benchmarks, participants are paid for their work. Participants are also required to make a Life Plan based on achievable goals.The Youthbuild model of hands-on vocational training, coupled with scholastic work toward a diploma, provides a unique opportunity for young women and men who require additional support and a flexible learning environment. Youthbuild participants receive intensive encouragement from the construction and education staff. New classes begin frequently, with participants traditionally making a several-month commitment to the program. Youthbuild participation is voluntary.

Participant characteristics:     
Between the ages of 16 and 24

Lacking a high school diploma

May have court involvement or other factors putting them at risk
General expectations:      
Work in harmony with other participants and staff

Help others to succeed

Focus on goals

Avoid drugs and alcohol (periodic drug testing is required)

Dress appropriately (Youthbuild uniform)

Abide by all rules and regulations

Be a good ambassador of the program
Intake interview to determine eligibility and desire to participate

Application forms for Youthbuild and an accredited online high school

Commitment interview to begin full-time attendance

Work towards compensation when certain criteria are met.
Phases of Youthbuild      
Pledge—A participant is acclimated to the pace, flow, and expectations of the program. Expected behaviors include attendance, respectful behavior, and positive attitude.
Trainee—A participant focuses on job skills, educational goals, communication skills, appearance, and overall demeanor.
Apprentice—A participant is paid a training stipend, demonstrates outstanding performance on the construction site, and receives the GED or high school diploma.
Crew leader—A participant takes on more responsibility, serving as a crew leader on the construction site and a mentor to others in the Youthbuild program.
Post Secondary Education     
Youthbuild of Southeastren Ohio offers young people who qualify an opportunit to begin their college careers on-site at Sojourners. Through partnerships with Columbus State Community College, Rio Grande, and Hocking College, Youthbuild participants and community members may take core classes that will tranfer to accredited universities in Ohio. The classes are an innovative mix of distance learning, video conferencing, and occasional on-site construction. Youthbuild staff offer educational counseling and  assist prospective students through the financial aid process.  Additionally, students may begin college classes  online from Columbus State, while they finish their diplomas in  in Youthbuild's distance learning program.     
Special Service Projects
Christmas Tree Collection and Wildlife Habitat Project
Cox Covered Bridge Restoration Project
Food Baskets for Veterans Project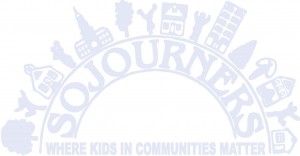 Hope Furnace Restoration Project
(in Lake Hope State Park)
Hope Park Construction Project
(in Lake Hope State Park)
McArthur Park Amphitheater
McArthur Entrance Sign Renovation
Miners Cabin at Hocking College
Ridges Nature Trail
Tinker-Bay Covered Bridge Restoration Project
Vinton County Courthouse Gazebo and Flower Boxes
Vinton County Historical and Genealogical Society Annex Project
Vinton County Fairgrounds Signage Project     
On-going Service Projects             
Vinton County Red Cross Blood Drives
Care Outreach Food Pantry
Vinton County Quilt Barns Project
Conservation and Natural Resource Projects Through Out Southern Ohio
            
National Emergency Grant Programs
The Sojourners National Emergency Grant Programs provide temporary jobs for over 100 dislocated workers, displaced homemakers, and long-term unemployed men and women 18 years of age and over, who  work for six months or 1,040 hours, whichever is longer. 
The NEG Stream Recovery Program crew workers remove debris from roads, creeks, streams and other waterways in Hocking, Ross, and Vinton counties. The NEG Wind Recovery Program crew workers remove debris and repair damage from the June 29, 2012 wind storm in Hocking and Vinton counties.The grants are funded through the US Department of Labor.