November is National Runaway Prevention Month and Sojourners is joining organizations all across the country in the fight against youth homelessness. National Runaway Prevention Month is co-sponsored each year by the National Runaway Switchboard and the National Network for Youth. The goals of the month are to raise awareness about the issues that runaways and homeless youth face and educate the public about solutions preventing youth from running away from home.
Sojourners will join the effort by taking part in the Green Light Project, which is the symbol for National Runaway Prevention Month. The organization will sponsor a number of activities in Athens, Hocking, Jackson, Ross, and Vinton counties. 
To kick off the month of awareness activities, Sojourners will host an awareness walk in each of the counties to show support for homelessness youth:
Athens County Walk—November 4th at 6:30 pm. It will start and end at the Athens County Courthouse.
Hocking County Walk—November 6th at 6:30 pm. It will start and end at the Gazebo in Logan.
Ross County Walk—November 7th at 6:30 pm. It will start and end at the Ross County WMCA in Chillicothe.
Jackson County Walk—November 8th at 6:30 pm. It will start and end at the Jackson County Courthouse.
The numbers around runaway and homeless youth are really daunting. For instance, 2.8 million teens run away from home each year, and 32,953 children were homeless in Ohio last year. In the past year, Generation Now, our division of runaway and homeless youth programs, has sheltered 92 homeless children and youth, and 23 young adults received more long-term housing in our Transitional Living Program. And these statistics are just the beginning of the bad news. Research tells us that adults who were runaways or homeless for a period of time as children face a higher rate of alcohol and drug abuse, criminal offenses, and suicide.
"Exposing the Numbers" exhibits will be placed in county schools, government offices, and other community locations.  The exhibits are made up of cardboard boxes painted with green, black and white statistics about runaway and homeless youth.
These exhibits are basically boxes of different sizes placed in a big pile. Each box has a statistic about young people who run away. Boxes are used because kids on the street often find shelter in cardboard boxes. It's a striking, visual way of getting this information out to the community.
On November 4, Sojourners staff will take part in a national social media day of action, using social media to encourage their friends and acquaintances to share information about runaway and homeless youth with others.
Every Thursday through November Sojourners staff are encouraging people to wear green socks.
We've had a lot of fun with our green sock Thursdays. The idea is that when people ask you why you are wearing bright green socks it gives you an opportunity to talk to them about runaway youth. We have people from all over the region posting pictures of themselves wearing their green socks. Green sock photos can be found on the Green Light Project event page, which can be accessed through our Facebook page.
For more information about Sojourners' Green Light Project activities like us on Facebook or follow us on Instagram and Twitter @sojoforkids.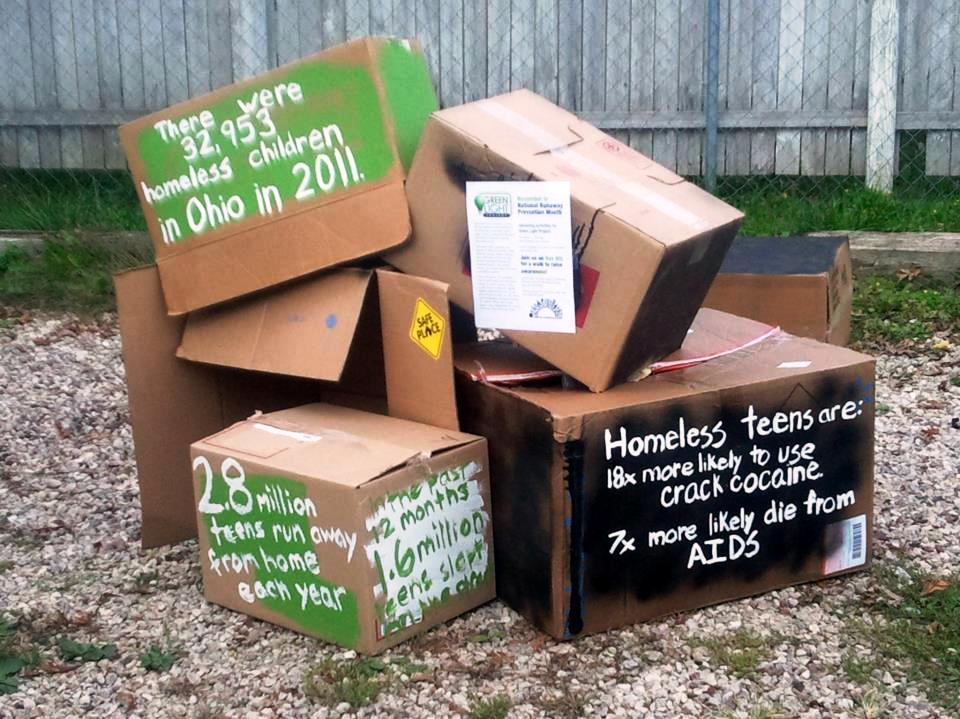 Youthbuild of Southeast Ohio is recruiting participants for its new class which will begin September 4th 2013. 
Two information sessions are planned for prospective participants, their families, and interested community members. The events will be held on Thursday, August 22 at 6:30 pm and Tuesday, August 27 at 6:30 pm. Both information sessions will be held at the Sojourners Training Center, home of Youthbuild, at 62969 US Highway 50, just outside of McArthur.
Young women and men in Youthbuild learn construction and carpentry skills by building homes for low-income families, while receiving leadership and education support leading to a high school diploma or GED. After reaching certain benchmarks, participants are paid for their work. The Youthbuild model of hands-on vocational training, coupled with work toward a diploma, provides a unique opportunity for young women and men who require additional support and a flexible learning environment. Participants must be between the ages of 16 and 24.
The new class is limited to 25 participants so those interested are encouraged to register as soon as possible. For more information or to register contact Joy Dickerson at 740.591.6279, or jdickerson@sojournerscare.net.
To learn more about Youthbuild and Sojourners visit www.sojournerscare.net, like us on Facebook or follow us on Twitter @sojoforkids.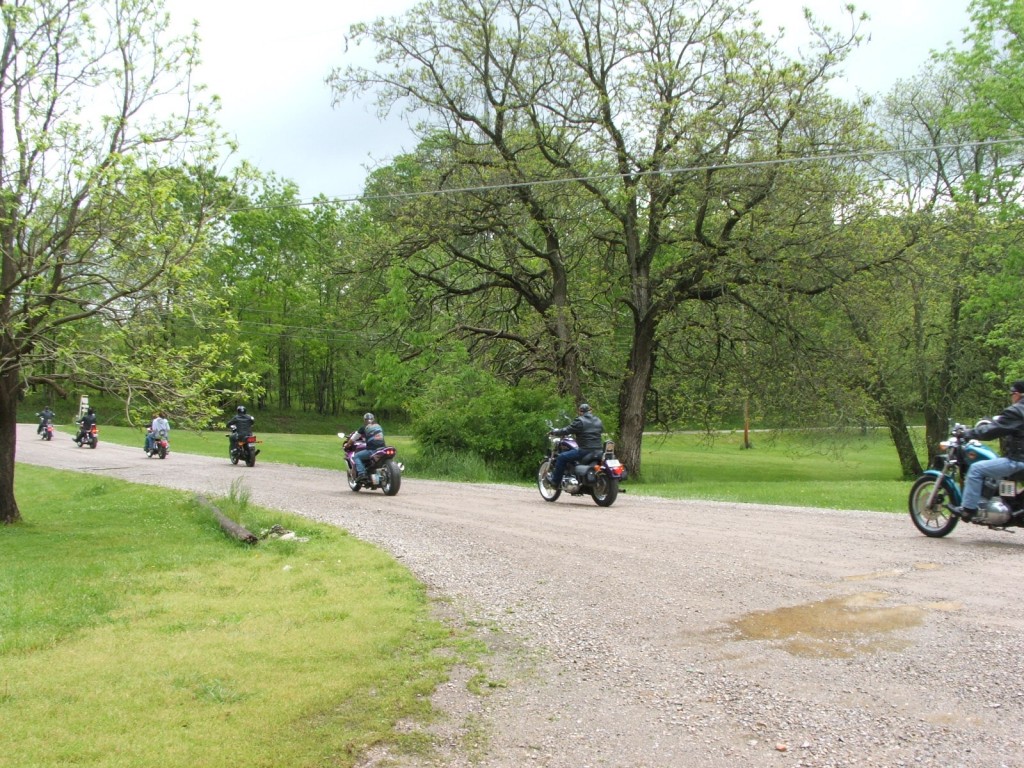 Motorcycle riders have the chance to ride the beautiful summer roads of southeast Ohio and help local foster care youth during the All Riders Club annual Ride for Foster Kids poker run on August 3. Registration will be held from 11:00 am to Noon at the Redman Lodge, 7875 Dairy Lane, in Athens.  The cost is $10 a person and $15 a couple. The poker run finishes at 5:00 pm.
All proceeds from the benefit ride will be donated to the Sojourners Foster Care Program, a component of the nonprofit organization's division of Family Development. The program provides therapeutic foster care and adoption services for children in Southern and Central Ohio through partnerships with caring and supportive families. Many of the young people served by Sojourners have experienced difficult lives, including histories of abuse and neglect, multiple traumas, poor school experiences, and a lack of social engagement. Sojourners collaborates with the youth, their family, and their community to transform challenging pasts into bright, new futures.
For more information about the poker run call 740.753.4348.
Do you own a classic or hip domestic or imported car?  Enjoy looking at them? Whether you want to enter a car or just like look at them, the Big Boy Toy Show is a great way for you to spend a Saturday afternoon.
Sojourners is planning the annual Big Boy Toy Show, which will feature the Sojo Car Show and Sojo Snapshot. The event will be held in conjunction with the Ridgetop Music Festival on Saturday, August 10 at the Vinton County Airport, at 66285 Airport Rd.,  New Plymouth, OH 45654.
Registration for the Sojo Car Show begins at Noon. Judging for the car show will take place at 2:00 pm. Registration fee for the car show is $10.
Awards will be given for Best in Show, Second Place, Third Place, Fourth Place, People's Choice and DJM Pick. The first 30 cars to register will receive dash plaques.
Car and air plane owners will also be able to take part in Sojo Snapshot.  For $5, owners can have their photographs taken with their vehicles and planes by professional photographer, Kimberely Crum, Sojourners VISTA Volunteer Coordinator. Two professionally edited photographs will then be emailed to the owners.
At 2:00 the Ridgetop Music Festival will begin. Go-cart races, $30 plane rides, and a sky-diving exhibition will round out a day of exciting events at the Vinton County Airport.
All proceeds from the Big Boy Toy Show will benefit children and young people in the youth development programs of Sojourners.
For more information contact Kim Crum, at 740.418.2145 or kcrum@sojournerscare.net, like Sojourners on Facebook, follow on Twitter @sojoforkids.
Sojourners' staff, board of directors, family and community members gathered on June 14 at the Calvary Assembly of God to highlight the academic and work readiness achievements of several of the organization's participants. Terri Fetherolf, chair of the Sojourners board of directors, welcomed everyone on behalf of the board.
Alex Sheen, founder of the social movement because I said I would served as keynote speaker for the celebration.  Because I said I would is dedicated to the importance of commitment and the promises we make. Through charitable projects, because I said I would motivates others to make a positive impact on our world. To encourage positive change and acts of kindness, Sheen sends "promise cards" to anywhere in the world at no cost. Because I said I would executes charitable projects in support of other non-profit organizations and good they seek to accomplish.
The idea of because I said I would came about to honor Sheen's father, who always kept his promises—and who died of cancer in September 2012. In the months since his father's death, Sheen has witnessed because I said I would spread around the globe. The stories posted to his website showcase how people have embraced his message through charitable acts of their own.
Because I said I would has special meaning for the participants of Sojourners' Youthbuild program. This year they chose to end the daily recitation of their daily pledge with the phrase because I said I would.
Alex Sheen was born in Toledo, Ohio and was raised in Powell, Ohio. He graduated from Olentangy High School in 2003 and continued his academic career at Ohio University as a proud Bobcat where he received his B.A. in Marketing. In 2007, Alex moved to Lakewood, Ohio where he currently resides.  He was a Corporate Strategy Lead at a growing software company in the Cleveland area until March 2013 when he decided to request a demotion to a part-time role as a Strategic Research Analyst in order to further pursue because I said I would.
During his remarks, Sheen spoke lovingly of his father and encouraged the audience to think about who and what matters to them and make a promise to foster it. While he spoke, promise cards were passed out to honorees and guests so each could make a promise and take it with them.
During the Celebration of Success, we honored thirty young men and women for work achieved in fourteen categories. 
Two foster care youth were recognized for successfully graduating from local high schools. Janie Rhoads, Sojourners' Director of Family Development, congratulated them on their achievements and spoke of the difficulties many youth in foster care have completing high school. 
Jeff Fite, Director of Job Readiness and Training, honored nine young men and women for receiving their diplomas or GEDs through the educational component of Sojourners' Youthbuild Program. Brody Hopkins, Zachary Keffer, Daniel Knapp, Alaina Morris, and Kelsha Pierce graduated from Vinton County High School. David Tanner McClure graduated from the Virtual Community School of Ohio, and Nathan George Gross and Amanda Holley received their GEDs. Fite also recognized Benny Willard, of the United States Army, with the Military Service Award.
Joy Dickerson, Recruitment and Aftercare Coordinator, awarded Robert Wade Schwalbach the Exemplary Attendance Award, and Joshua Grant, Clarence Ed Plummer, Robert Wade Schwalbach, and William Tyree the 2/90 Award for high performance in the Youthbuild program.
The Apprentice Award was presented by Rick Parkison, Vocational Trainer, to Flossie Coleman, Joshua Grant, Randy Hinton, Ashley McNichols, Alaina Morris, Kelsha Pierce, Clarence Ed Plummer, Robert Wade Schwalbach, and William Tyree.
Evette Bethel, Director of Generation Now, Sojourners' division of runaway and homeless youth programs, gave Anna Harding an award for receiving her STNA certification. Bethel also presented the Community Service Award to Harding and Billy Stilson.
Fred Bush, Construction Supervisor, presented 23 Youthbuild participants with the National Center for Construction Education and Research (NCCER) award.  In order to provide students and craft professionals with industry-recognized credentials and assure national portability of skills, NCCER maintains a credentialing and certification system through its National Registry. The National Registry provides transcripts, certificates, and wallet cards to students who successfully complete the Contren® Learning Series curriculum. Youthbuild, through Youthbuild USA is an accredited NCCEER sponsor. 
Bush also recognized 22 Youthbuilders for completing the 10 Hour OSHA Construction course.
Tim Jones, Distance Learning Coordinator, recognized 13 members of Youthbuild for completing a course in Logistics Art through Pickaway Ross Vocational Center.
Marcus and Richard Games, Co-Founders and Co-Executive Directors of Sojourners, then took the stage to award the Community Partner Awards to LAUNCH of Jackson County for their collaboration on the Sojourners 2013 MLK Day school programs and the Region 20 WIA Board for its leadership in the development and implementation of programs to provide employment to dislocated and long-term unemployed adults.
The Games brothers were joined on stage by their mother, Linda Boulanger, to present the organization's most prestigious award. The Morris Award is presented each year to a participant in one of Sojourners' programs who most demonstrates leadership, vision and humor—traits exemplified by Morris Steve Games, the Games' late father and husband. The 2013 recipient of the Morris Award is Velsha West a foster care youth in Sojourners Foster Care Program. While in foster care West graduated with honors from Portsmouth High School and was awarded a full scholarship to Wright State University. During her high school career she received many academic honors and participated in several student organizations. In her acceptance remarks West thanked her foster mother, Laura Walker, for inspiring and guiding her.
A reception immediately followed the Celebration of Success ceremony in the shelter house of the church.
Congratulations to everyone!
32 aluminum cans in a pound
3,793 pounds collected
121, 376 cans collected
The Sojo Community Recycling Program is up and running and the recyclables are adding up. After a soft two-week start when the center was open only to staff and their families, the program opened to the public on April 12. The center, which is located at the back of the vocational area of the Training Center, accepts recyclables on Tuesdays and Fridays from 12:30 pm to 3:30 pm. We are now buying aluminum cans for $.55 a pound and hope to begin buying other metals within the next month or so.
In the short time we have been open we have processed 3,793 pounds of aluminum cans and 4,000 pounds of cardboard. The Sojo Community Recycling Program was developed by Rod Raisanen, our VISTA Social Enterprise Developer, and is staffed by participants in our Youthbuild Program.
A Recycling Win-Win Story
Arthur Coleman, a member of the VFW in McArthur, was on his way to Chillicothe with the first of three loads of recyclable cans he was taking to sell in Chillicothe when he saw the sign at the Training Center announcing our recycling program.  He made a u-turn and sold his pick-up full of cans to us. He made two more trips that afternoon to the training center, each with a pick-up full of cans. Selling the cans to Sojourners saved Mr. Coleman time and money spent on gas, allowing the VFW to keep more of the money made on the sale of their cans. Since the VFW plans to sell us cans in the future, this relationship helps our recycling program as well. It is a great example of how our recycling program serves the community, while helping support our Youthbuild programs.
We are currently accepting:
Recyclables
Cardboard
Newspapers
Magazines
Catalogs
Plastic Bottles & Jugs
Steel Food Cans
Glass (clear, brown, green bottles & jars) 
Metal Scrap
Aluminum
Copper
Brass
Steel
Electronics
Computer towers
Laptops
Cell Phones
Printers
LCD monitors
Chargers
Cables
SOJOURNERS VISTA PROGRAM
fighting poverty with passion
Are you looking for a full-time job where you can make a difference in peoples' lives? Or, a summer job where you can have fun and help people?
Sojourners is recruiting for 17 AmeriCorps VISTA positions for two AmeriCorps VISTA programs which are funded through a grant from the Ohio State Office of the Corporation for National and Community Service. 
Full-Year VISTA Program—Sojourners' Full-Year VISTA Program provides 11 individuals the opportunity to use their skills and talents working within the organization's four divisions. Six VISTAs help develop Basic Center sites in six counties for runaway and homeless youth.  One VISTA works with the Youthbuild program to develop social enterprise and job placement opportunities.  One VISTA trains and support foster parents to provide high quality independent living skills to foster care youth.  Two additional VISTAs work in the Operations Department as a Special Events Coordinator and a Volunteer Coordinator. One VISTA will serve as a VISTA Leader, supporting the other VISTAs and acting as a liaison between the members and Sojourners staff, programs, and participants.
This is our second year offering the full-year VISTA program. Our first cohort of members was extremely successful and accomplished great things for Sojourners. We are very excited about the skills and energy our new VISTAs will bring to our organization, our youth development programs, and the communities we serve.
Summer VISTA Associates—The Sojourners Youth Summer Feeding Program provides six individuals an opportunity to spend the summer coordinating youth feeding sites in three locations in Vinton County. Activities include transporting food to the feeding sites, coordinating distribution of food, and providing fun educational and life-skills programming for the children.
This is our first opportunity to hire VISTAs for the summer.  We are excited about offering these meaningful positions in our Youth Summer Feeding Program.  It's an opportunity for members to help young people and have fun while they are doing it.
AmeriCorps VISTA is the national service program designed specifically to fight poverty.  Authorized in 1964 and founded as Volunteers in Service to America in 1965, VISTA was incorporated into the AmeriCorps network of programs in 1993. VISTA has been on the front lines in the fight against poverty in America for more than 45 years.
VISTA members commit to serve at a nonprofit organization or local government agency, working to fight illiteracy, improve health services, create businesses, strengthen community groups, and much more. During their service, VISTA members receive a modest living allowance, health care, and other benefits. And, upon completing their service, they can choose to receive either a Segal AmeriCorps Education Award or post-service stipend.
For more information about the Sojourners VISTA Programs contact Shelly Horvath at 740.591.6649 or shellyhorvath@yahoo.com. To view job descriptions or apply online, visit www. americorps.gov.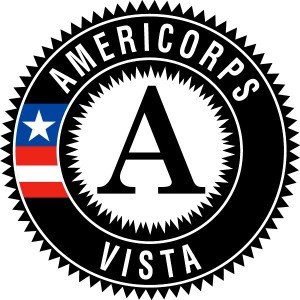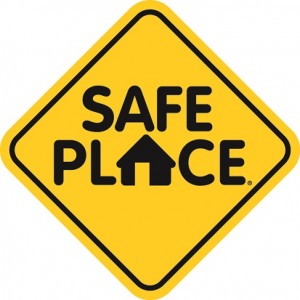 Young people who find themselves in trouble in southeast Ohio, now have several new places to go for immediate help. We have recently added 11 new Safe Place sites, bringing the total the organization coordinates to 45 sites in seven counties.
This week is National Safe Place Week and we are really pleased to be able to announce so many new sites. The success of this program is based totally
on our collaboration with the schools, fire stations, organizations, businesses, and libraries who are our integral partners.
The new sites are Nelsonville Video Plus in Nelsonville; Gallia Academy High School and Middle School, Once Again Consignment Shop, and Silver Screen VII, in Gallipolis; Child Protection Center, Elizabeth's Hope, IGA—Eastern Avenue, Solace, and Synergy Family Foster Care in Chillicothe; and Gillespies in Huntington Township in Ross County.
Safe Place is a national youth outreach program that educates thousands of young people every year about the dangers of running away or trying to resolve difficult, threatening situations on their own. This easily-replicated initiative involves the whole community to provide safe havens and resources for youth in crisis.
Safe Place creates a network of Safe Place locations—schools, fire stations, libraries, grocery and convenience stores, public transit, YMCAs and other appropriate public buildings—that display the yellow and black diamond-shaped Safe Place sign. These locations extend the doors of the youth service agency or emergency shelter throughout the community. Youth can easily access immediate help wherever they are.
Each year between 1.6 and 2.8 million youth run away from home. They leave home to escape abuse or neglect, drug or alcohol abuse by family members, or because they're told to leave. Sometimes, youth feel that they don't belong, and leaving home is often not a choice they want to make. They often face other difficult issues — problems at home, issues at school, trouble with peers, being locked out of the house, riding with an unsafe driver, or being in a dangerous situation on a date.
No matter what the reason, young people do have a safe alternative. They can go to any designated Safe Place site to get immediate help.
Sojourners Safe Place sites include:
Athens County
Big Mamma's Burritos (Athens), Donkey Coffee and Expresso (Athens), Goodwill (Athens), Nelsonville Community Center (Nelsonville), Nelsonville Video Plus (Nelsonville), United Campus Ministry (Athens)
Gallia County
Gallia Academy High School (Gallipolis), Gallia Academy Middle School (Gallipolis) and Once Again Consignment Shop (Gallipolis), Silver Screen VII (Gallipolis) 
Hocking County
Village Café (Logan), North Fitness Center (Logan)
Jackson County
Brodigans Sporting Goods (Wellston), Launch, Inc. (Jackson), Oak Hill Teen Center (Oak Hill), Under The Oak Tree (Oak Hill), Updraft (Wellston), Video Plus (Wellston), YMCA (Jackson)
Meigs County
Meigs County District Public Libraries in Middleport, Pomeroy, Racine, and Reedsville
Ross County
Carver Community Center (Chillicothe); Child Protection Center (Chillicothe);  Chillicothe Fire Department (Chillicothe); Chillicothe & Ross County Public Libraries in Bainbridge, Chillicothe, Frankfort, Kingston, Richmond Dale, and South Salem; Elizabeth's Hope (Chillicothe); Gillespies (Huntington Township); IGA-Eastern Avenue (Chillicothe); Solace (Chillicothe); Synergy Family Foster Care (Chillicothe); YMCA (Chillicothe)
 Vinton County
Cross Creek (Allensville), Hamden Food Mart (Hamden), McArthur Super Valu (McArthur), Vinton County Sheriff's Department (McArthur), Vinton Industries (McArthur), Wilkesville Fire Department (Wilkesville).
To learn more about the Safe Place Program Like us on Facebook or follow us on Twitter @sojoforkids.
National Runaway Safeline, the organization which sponsors the annual National Runaway Prevention Month, recently announced that Sojourners is the winner of the 2012 National Runaway Prevention Month Community Contest.
Each year, NRS honors organizations and/or individuals who have taken action to raise awareness of the issues facing runaway, homeless and at-risk youth. Contestants are judged based on the degree to which the activity meets the goals of National Runaway Prevention Month: 1) to raise awareness of the issues facing runaway youth; and, 2) to educate the public about solutions and the role they can play in preventing youth from running.
We were chosen for this exciting award because of our Green Light Project campaign which raised awareness in the region about the issues of runaway and homeless youth. Our campaign included awareness walks in four communities in southeast Ohio—Athens, Jackson, McArthur, and Chillicothe. Each walk included a candle lighting and storytelling ceremony.
"Exposing the Numbers" exhibits were placed in county schools, government offices, and other community locations.  The exhibits were made up of cardboard boxes painted with green, black and white statistics about runaway and homeless youth.
We promoted our Green Light activities through news releases distributed to local media and displayed banners and other promotional materials throughout the region in local businesses, agencies, and schools. We used social media as a main focus for raising awareness and had great success with the "Green Sock" campaign. Using Facebook and Twitter, we encouraged people to wear green socks on Thursdays through the month of November in support of homeless youth, and to post pictures of those green socks!
As the winner of the The Community Contest we were awarded a commemorative plaque, a feature on www.1800RUNAWAY.org and a $100 gift card. Previous winners were the California Colaition for Youth (2011) and New York City Department of Youth and Community Development (2010).
The success of our 2012 Green Light campaign was the result of the work of staff and participants throughout our organization and we are very proud and gratified that our hard work was recognized. It is exciting that a small organization in a rural corner of Ohio has received this national recognition.
To learn more, Like us on Facebook or follow us on Twitter @sojoforkids.
Photos by Madeline Gray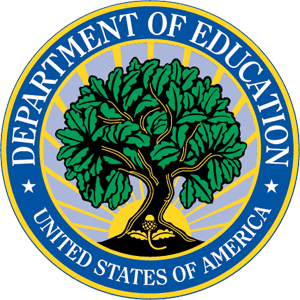 The US Department of Education and Jobs for the Future have teamed up to raise awareness about the difficulties youth face in rural areas concerning their education.  Utilizing the Village: Building Support for Students Success in Rural Communities is a three series webinar, a workshop which presented over the internet. Although the first two series of the webinar have passed, the third, "Effective Reengagement and Recovery Programming in Rural Communities," will take place February 28, 2013 from 1:00 to 3:30pm. The final part of the series will feature Jeff Fite, Director of Job Readiness and Training at Sojourners as well as Youthbuild of Southeastern Ohio Distance Learning Coordinator, Tim Jones.  Also taking part in our Youthbuild contingent will be a Youthbuild of Southeastern Ohio graduate, Kera Spriggs.
In August, 2011, Kera was chosen as one of ten Youthbuild participants by Youthbuild America to take part in a meeting in Washington D.C. with Arne Duncan, Secretary of the United States Department of Education. All ten students represent Youthbuild programs located in rural America or tribal nations. The special meeting afforded Kera and the other Youthbuild participants an almost unparalleled opportunity to talk "up close and personal" with Secretary Duncan about the issues facing rural and tribal YouthBuild programs.
Also taking part in the webinar will be Gary Chapman, Executive Vice President of Communities In Schools of National Network, and Constance Thomas, Executive Director of Berrien County Collaborative, Inc. of Communities In Schools/Family Connection in Nashville. All presenters will concentrate on the issues of building community partnerships, assisting student with transitioning into postsecondary education or careers, and effective use of curriculums.  After the presentation, participants will be given the opportunity to share their own reengagement and recovery techniques. 
The first of the three webinars, "Building Community Support for Dropout Prevention and Recovery Work in Rural Communities," shed light on how large the issue is of dropouts in rural area.  It also gave examples of two mobilization strategies to help build community support.  The second webinar, "Using Early Warning Indicators and Interventions to Help Rural Student Succeed," concentrated on how to early identify students who were at risk of dropping out and implement effective intervention techniques.  Dr. Robert Balfanz of the Everyone Graduates Center at John Hopkins University, discussed the importance of setting up an Early Warning System in rural areas to help better identify students.  Other featured presenters during the webinar were Joseph Barrow, Jr., Superintendent of Ware County, GA, Mark Willoughby, Director of Schools in DeKalb County, TN, and Julie Turner, School Improvement Specialist in Dothan, AL.  These presenters discussed the most effective intervention techniques and procedures used in their rural areas.  Some of these interventions included whole-school approaches, targeted supports for struggling students, and intensive intervention. 
The webinar is open to the public, if you are interested in participating be sure to register at: http://ruraldropoutprevention.weebly.com/webinar-three.html.  Be sure to register soon, there are only 200 spots available. If you have any trouble registering, you can contact Monica Melville at mmelville@mahernet.com. 
Article contributed by Christina Harms, Sojourners VISTA Special Events Coordinator.